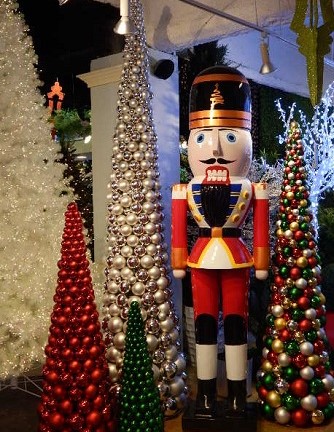 Autograph's New Line of Commercial Christmas Décor includes cone trees, Life-size Ornaments, Nutcrackers, Christmas Gifts boxes, and Drums.

Our life-size décor is all handcrafted and hand painted made for outdoor use. Glossy Ornament Colors in stock include Red, Green, Blue, Silver, and Gold. Ornament Globes in sizes from 21 inches, 33 inches and 49 inches. Glittery Satin 31 Inch Star Ornaments in Gold and Silver. Custom colors and sizes are also available.

Check out our New Ornament Trees in multiple sizes and colors! Traditional Red/Green/Gold, Red, and Silver colors in stock. Perfect for your Holiday Event!
Wondering how to liven up your space this holiday season? Welcome to Autograph's new line of Commercial Christmas Décor. No matter what your commercial space size is, you will find just the right décor items with us. We carry a collection of wholesale décor that ranges from as small as 24 inches to as big as 10 feet tall!
What could be better than decorative trees to create a Christmas vibe during the holiday season? Check out our collection of Acrylic Cone Trees, Multi-Ball Cone trees, Pull Up Trees, Ice Trees, and Glittered Twig Trees.
Choose from the vast variety of sizes and colors in each type. We offer custom colors and sizes too. Add to the festive décor of your commercial space with the attractive Topiary Trees with LED lights.
Don't miss checking out the Fiberglass Ball Ornaments, one of our bestselling commercial décor pieces, ideal for indoor or outdoor installations. We also carry Matte/Reflective Wreaths and Ball Garlands that look splendid as a wall or door décor.
Our life-size décor items like the Life-Size Nutcrackers are hand painted & handcrafted, perfect for indoor and outdoor use. You can also go for the Fiberglass Display Gift Boxes and Standing Reindeer Decor, to decorate your commercial space.
Whether you want a stock of traditional decor with classic red, green, gold, and silver colored items or prefer glittery décor items for a modern look, Autograph Foliage is the perfect stop. Pick from our wide range of vibrant holiday décor that is zero maintenance and will last year after year!