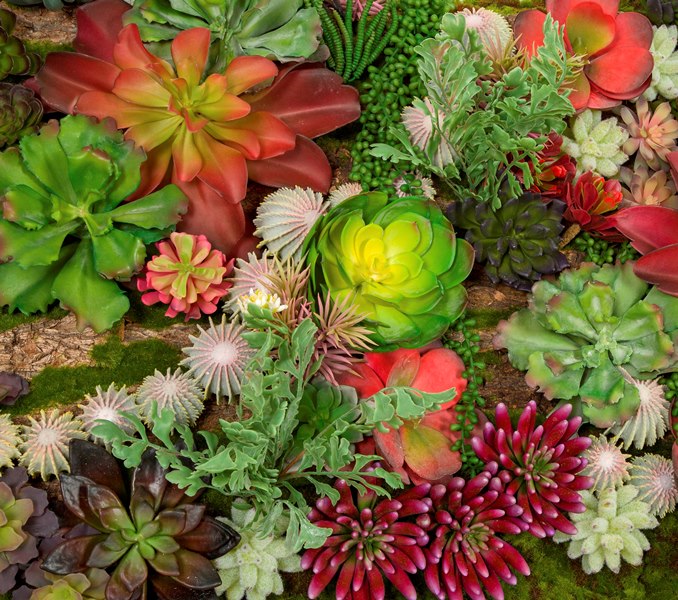 Autograph
Succulents features a wide variety of use as individual plants, on tabletop, massed in planter beds or as top dressing under large specimens, they look and feel like the real thing. Available in various mix of colors. Check out our Succulent picks - Agave, Sedum, Echeveria, Money Plant, Aloe, and Aeonium and others. Check out Fire Retardant Succulents too!

With the advent of Green Walls and Framed Foliage, Succulents fill a new role in your designs; for instance they can be placed geometrically in rows, or squares, mixed with other Replica plants, used as hanging balls, or done as stripes. You can even spell out names or logos.

Using Succulents is an eye-catcher and we all know that something relatively small but unique can be the one thing that intrigues the client. In Lobby, over the Reception Desk, or on the Restaurant Wall, they will find a home. And, because they are Replica, they go anywhere!
Autograph Foliages has a diverse and versatile collection of Cacti and succulents ranging from 3 inches to 7 feet.
Here are some key features of our Cacti & Succulents collection.
Different Foliage Types: Choose from a variety of succulents that we carry - Agave, Sedum, Money Plant, Aloe, and Aeonium, and others. We also have a range of fire retardant succulents. We carry diverse types of cacti like the cactus plant, cactus stem, finger cactus, Mexican cactus, and Prickly Pear cactus, among others.
Multiple Applications: Our range of cacti and succulents can be used in various creative ways individually or in a group. Decorate them on the reception desk, restaurant walls, or a corner table, and they will elevate the look of the space. These replica pieces go just about anywhere!
They look great as tabletop plants or massed in planter beds, or as top dressing under larger specimens. You can use them in a group to create a unique design. They can be placed geometrically in rows, circles, stripes, or squares to portray a particular shape or pattern. They will also look perfect as a part of green walls and framed foliage and can be used to spell out your names or logos to give a green twist to your branding efforts.
Eye-Catching Display: Succulents and cacti are instant eye-catchers irrespective of their size and can be a unique addition to your décor. They can intrigue your clients and amp up the interiors of your space with earthy greenery.
Various Colors: We carry wholesale succulents and cacti in colors like pink, brown, light blue, burgundy, lime green, tutone green, orange, yellow, and red.
Low Maintenance: Like artificial trees and plants, our wholesale succulents and cacti require minimal maintenance compared to live cacti. Our faux succulents and cacti can be placed anywhere without worrying about access to adequate sunlight, water, or air.
Natural & Earthy Look: Our range of succulents and cacti instantly add a natural and earthy vibe to your space. They go well with all kinds of interiors or outdoor settings. They are ideal for home and office décor, too.
Different Styles and Shapes: Who said cactus or succulents have to look all the same? One peek at our collection, and you will be amused at the distinct styles and shapes of wholesale cacti and succulents we carry.
We have Saguaro cacti, Yucca plants, Barrel Cactus, Sansevierias, Mixed Succulents, Echeverias, Cactus Plants, and Potted Succulents,. All of these have different shapes and appearances and are available in a variety of colors. Our range consists of cacti and succulents that are fire-retardant UV protection, picks, and in weighted base.
The highlight of our wholesale cacti and succulent collection is that they offer instant beautification, are available in all sizes, are durable, and can be brought in the color you like. Autograph also offers several customization options that give rise to limitless options.